In response to COVID-19, most College offices are operating remotely.  You can reach us by phone or online.  See contact information below. Stay well.
______________________________
Admissions
We will continue to serve your inquiries through technology. Please connect with us on:
Live Chat accessible at our website: www.raritanval.edu
ARVEE the Artificial Intelligence (AI) BOT text message on the College's website (Admissions pages) through Messenger icon
Admissions' Email admissions@raritanval.edu, and our emails listed below.
Please scan and email any Admissions documents to admissions@raritanval.edu. Do not leave any documents on campus at this time.
Carolyn White, Executive Director of Enrollment Management carolyn.white@raritanval.edu 908-297-0561 - cell
Nancy Mombay Assistant Director of Admissions nancy.mombay@raritanval.edu 908-297-0648 - cell
Antoinette Bryant, Enrollment Coach antoinette.bryant@raritanva.edu 908-297-6315 – cell
Delma Rose, Enrollment Coach delma.rose@raritanval.edu 908-297-6313 – cell
Daniela Acharon, Admissions Coordinator daniela.acharon@raritanval.edu
Karen Zappetti, Admissions Staff karen.zappetti@raritanval.edu
Kiswah Khan, Admissions Specialist kiswah.khan@raritanval.edu 908-297-6261 – cell
Academic Support Center
The Academic Support Center will be offering tutoring by appointment through Microsoft Teams. Please send your appointment request to one of the emails below and we will get back to you within 24 hours.
We also offer tutoring through Smarthinking! A 24/7 online help service in math, science, accounting, and business by non-RVCC tutors. Click here for more information.
Donyea Sanders donyea.sanders@raritanval.edu 908.526.1200 x8549
Kristin Gatti kristin.gatti@raritanval.edu 908.526.1200 x8393
Advising
Advising & Counseling Services will continue providing the following services to students either via phone, email or video chat.
Students SEEKING ACADEMIC, TRANSFER ADVISEMENT or PERSONAL COUNSELING via video chat:
Students who

 

have

 

smartphones

Student requests a meeting with an advisor/counselor via email, providing their cell number and preferred times for their video conference meeting
Upon confirming the meeting day/time, ACS staff member will send a confirmation email to the student.
Instruct the student to download Google Duo App on their phone to facilitate the meeting.
Instruct the student to accept all allowances and reload the app to update (if needed).

NOTE: Students who

 

do not

 

have a smartphone can use/create a Gmail account & then can request a video chat with you via

 

Google Hangouts.
Counseling
In these trying and turbulent times, RVCC's Counseling Services will continue to do what we can to help support everyone. We will be available remotely for continued counseling support. If you need one of the counselors, please email personalcounseling@raritanval.edu and we will reply as soon as possible. We will utilize phone or video chats to do what we can to continue serving our community. Remote Therapy Consent Form
With the daily exposure of news about COVID-19, reactions can be emotional, somatic, and/or behavioral, and can strongly impact mental and physical health. Listed are some ways to decrease your uncertainty of these time:
Maintain your routine
Utilize social distancing as much as possible
Follow health care guidelines
Do something physical to release some of the anxiety building
Meditate
Do something relaxing, get away from the pressures of the day
Reach out and talk to friends and family
Here are a acouple links that may be helpful to manage our daily lives.
Gina Kuijlaars LPC, CCFC, CMHMIP, Lead Mental Health Counselor Gina.Kuijlaars@raritanval.edu
Google Hangouts: Gina.rvcc@gmail.com
Bambi Kuhl, CSW helen.kuhl@raritanval.edu
Google Hangouts: Bambi.rvcc@gmail.com
Bruce Yellin, LCSW bruce.yellin@raritanval.edu
Google Hangouts: Bruce.rvcc@gmail.com
Dean of Student Affairs
The Office of the Dean of Student Affairs is still available to assist students with a variety of topics.
If you need to request any services or just need an answer to a question, email our office at DOSS@raritanval.edu or jason.fredericks@raritanval.edu
Disability Services
The office is operating remotely. We are available for intakes, questions, and/or concerns during regular business hours. We have the ability to Skype. Please feel free to reach out!
The general (best) email is disabilityservices2@raritanval.edu
Karly Skerbetz, Coordinator karly.skerbetz@raritanval.edu
Nicolette Colon, Assistant Director nicolette.colon@raritanval.edu
Rikita Singh, Director rikita.singh@raritanval.edu
Enrollment Services
We would like to assure you that we will continue to serve you with our full breadth of services, with the following exceptions:
Electronic and mail transcript orders may be processed as usual, but pickup orders will not be available
We will be able to process and evaluate incoming electronic transcripts, but not paper transcripts
We will be able to process Enrollment Verifications electronically, or mail them, but will not be able to process them for pickup;
Communication is always important, but even more so under these circumstances. If any of the above-mentioned limitations will cause a problem for you, please let us know, and we will try our best to meet your needs as we are able. If you have questions or would otherwise like to leave a message, please call (908) 526-1200, ext. 8861, or email us at registrar@raritanval.edu
Financial Aid
We suggest you email the appropriate Financial Aid staff member with any questions or issues.  Please scan and email any Financial Aid documents to us directly.  Do not leave any documents on campus at this time.
If your last name starts with the letters A-F, please contact Lenny Mesonas lmesonas@raritanval.edu 908-526-1200 Ext 8371
If your last name starts with the letters G-N, please contact Erin Kislan ekislan@raritanval.edu 908-526-1200 Ext 8378
If your last name starts with the letters O-Z, please contact Melanye Nunez mnunez@raritanval.edu 908-526-1200 Ext 8397
Also, Fall 2020 and Spring 2021 Financial Aid processing has been delayed. We plan to begin once the college reopens.
First Year Experience
The First Year Experience (FYE) Team supports all new, first time college students as you transition into the college culture, participate in campus life, set your academic path, and have an enriching and successful campus experience. Although the COVID-19 pandemic has determined that we must change our practices, the goal of FYE is to provide you with a support system to help you reach your academic, personal and professional goals.
INFORMATION FOR INCOMING STUDENTS
Registering for Classes
Now that you have completed your application, the next step in the enrollment process is to get you registered for classes and oriented to the college's technological and campus resources. Your participation in a First Year Registration Session (FYRS) will do that. Complete this Welcome from FYE Form so we can collect some general information that will determine our follow up with you. Based on your responses, we will either email you within 48 business hours with instructions to either:
submit your English and Math Placement information. See the chart below for details on exemptions to the placement testing requirement.
OR
RSVP for your desired First Year Registration Session. Sessions will be offered online from May through August. During the sessions we will provide you with the information, tools and resources to register for Fall classes. We will send you detailed information about the format prior to your session date.
EXAM SCORE EXEMPTIONS FROM PLACEMENT TESTING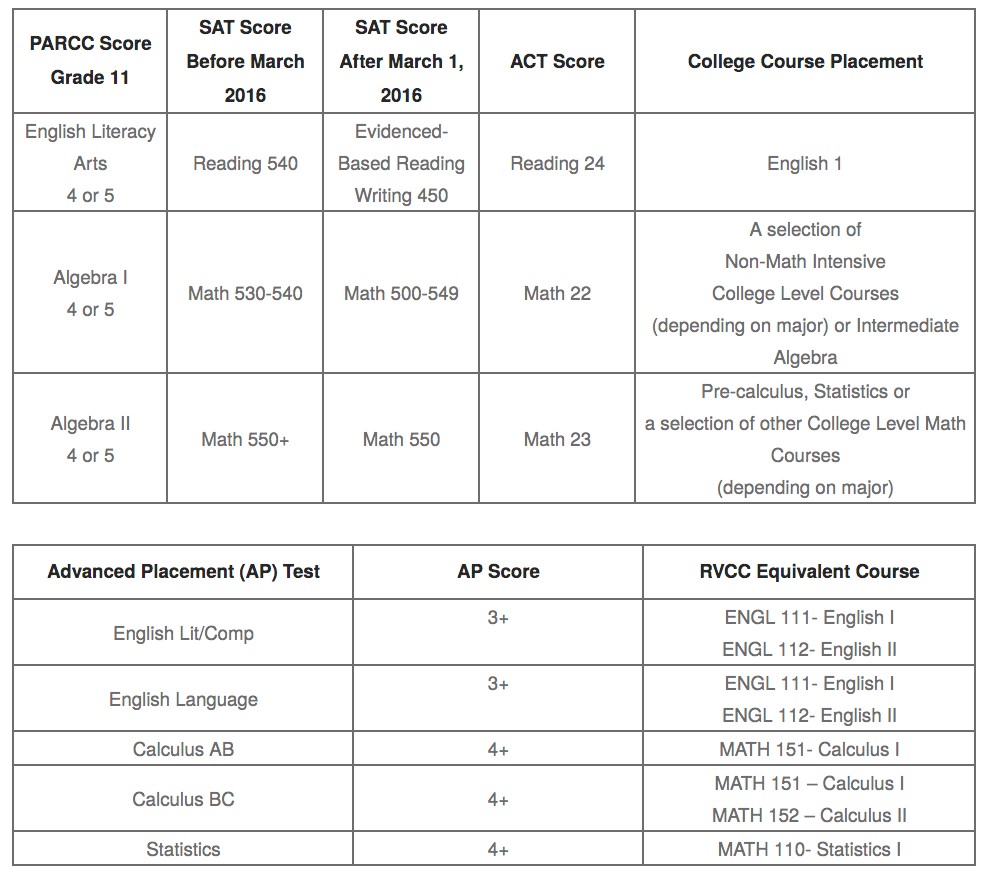 Please provide all official and/or unofficial scores to admissions@raritanval.edu. If you do not qualify for an exemption, we will send you information on how meet the placement testing requirements as soon as it is available.

Orientation
Lion Pride Day is our orientation, sharing what it means to be part of the RVCC culture, and hearing from students, faculty, and staff about acclimating to college life. We want you to feel welcome, and connected, and engaged for the journey ahead.
New Student Testimonial:
"I honestly didn't know what I was going to get out of attending Lion Pride Day, but I'm glad I came. I learned ways that I can take control of my educational goals, find my 'why' and make sure I don't go through this alone. I met so many new students and current student leaders today! Hopefully we'll stay in touch."
Parent Testimonial:
"I've never seen my daughter respond to new people like this! She needed to be here today."
Student Leader Testimonial:
"When I attended Lion Pride Day my first year, I was inspired to get involved and make the most out of being at RV. And by helping students go through this important transition and welcome them to College as a Student Leader? It's a great feeling. It makes them feel that they're not alone."
We are currently determining how we will structure this event for a lively and engaging time. As soon as it becomes available, we will follow up with all the necessary information for you to RSVP.

INFORMATION FOR CURRENT STUDENTS
We know that switching to fully online classes can be very difficult and we are here to fully support you during this transition. Please check your email for our weekly updates with tips and resources to help you stay on track academically and support your overall well-being. If you would like to set up a virtual meeting with your First Year Advisor, please email or call us and provide the following information:
Your first name, last name and G#
Three days and times you can meet Monday – Friday between the hours of 8:30 AM – 5:00 PM. Your First Year Advisor will follow up with a calendar invite for your appointment.
Your preferred format for the appointment – phone or Skype
What questions or concerns you may have and want to discuss further in the meeting
You can also complete the following survey: Tell FYE How We Can Help to let us know what resources we can help you access.
We encourage you to reach out to us for advice and support regarding your plans, especially for the remaining Spring Semester. We're here to help you through these extraordinary difficult times.  Stay well and safe.
Contact Us:
FYE Main Office - FYE@raritanval.edu
908.526.1200 ext. 8522

FYE Advisors
Jache.Williams@raritanval.edu (Director)
Andrea.Faschan@raritanval.edu (First Year Advisor)
Maribi.Henriquez@raritanval.edu (First Year Advisor)



Library
The library is here to support your information needs during our move to online classes and extended closure. We have put together a helpful Virtual Library Resources website that you can visit to find out where and how to get help.
The library will close 3/17 at 4:30pm
March 18 and beyond:

The library will be open online only via chat with a librarian from 8:30am - 9pm Mondays through Thursdays and from 8:30am - 4:30pm on Fridays. The library is available via email reference@raritanval.edu and we will get back to you within 24 hours (with the exception of weekends).
You can still request interlibrary loan resources (articles and book chapters, no physical books). We will continue to monitor that service.
Our databases are 24/7 - you will still have the same great access to RVOneSearch, and all of our other research databases.
Our ebook collection is available 24/7 as well. You can visit https://rvcc.on.worldcat.org/discovery and search for your interest and then select 'eBook'
Paying Tuition
Payment due date has been moved by two weeks, from 4/17 to 5/1.
Technology Support 
For technology assistance please call or email the Technology Services Help Desk at 908-231-8811, x7887, helpdesk@raritanval.edu
*Free Internet Resources - The Federal Communications Commission's "Keep America Connected" initiative expands free internet access across the U.S. Visit here for AT&T, Spectrum / Charter, T-Mobile, Verizon, Xfinity and Optimum.
Testing Center
The Testing Center is temporarily closed. If you have questions or would otherwise like to leave a message, please email us at tcenter@raritanval.edu
Transfer & Career Servicces
Transfer & Career Services will now be working remotely and providing services using videoconferencing and Chat options through Microsoft Teams (accessible through Outlook 365 in The Lion's Den), Zoom, phone and email.  Other platforms such as Google Hangouts, Google Meet or Google Duo can also be accommodated!
To schedule an appointment:
Student requests a meeting with a staff member via email, providing their cell number and preferred times for their phone, chat or video conference meeting.
Upon confirming the meeting day/time, the staff member will send a confirmation email to the student and any further instructions if needed.
Our services include: 
Career Counseling to guide students in setting goals and making informed choices about future career and educational plans 
Helping students identify interests, skills, learning/decision-making styles, and personality traits-and career options that best fit! 
Individual advising on how to explore career fields through jobs and internships
Lion Job Board online jobs & internships database  
Strategies for professional networking and branding using social media 
Preparation on resumes, interviewing and job survival! 
And Much More!  
Check out our web site! 
All About Transfer: https://commons.raritanval.edu/studentserv/transfer/Pages/transfer_about.aspx
Contacts: