Student Voices:  "That I could simultaneously offset my financial burden with meaningful [internship] experiences has galvanized my appreciation for schooling." – James Lemieux, Class of 2020
Internships
The Center for Environmental Studies offers paid internships to RVCC students and alumni. Interns work closely with a faculty advisor to conduct research in a variety of environmental fields: Campus Sustainability, Coastal Conservation, Forest Ecology, Water Quality, Wildlife and Rare Plant Research. In addition to working on the internship projects, interns also have opportunities to attend and present at local and regional conferences. For further details about our internships check out our newsletters and press releases.
For a complete listing of open internship opportunities visit the RVCC Employment Webpage.
Student Voices:  "This [Coastal Conservation] internship provided me with validation that I am on the right career path The amount of joy I felt while I was working hard to help protect the environment was immeasurable. I believe it is immensely important that students are provided with real hands-on experience in their respective fields of study." – Angelina Arcure, Class of 2016

Environmental Club
The RVCC Environmental Club seeks to positively affect the community and create environmental awareness and eco-friendly living by making the campus more "green" through education and community projects. Club meetings are all about taking action and club members maintain organic vegetable gardens, make maple syrup, restore local habitats, sell organic fair-trade coffee and chocolate, participate in litter cleanups, create stations for Little Scientists Night, and go on hikes and camping trips. The club also organizes trips to places like the New York Botanical Garden, the Lakota Wolf Preserve, and more!

Service Learning
Service learning is an integral part of many courses offered by the RVCC Environmental Science and Studies programs. Students who participate in service learning have an opportunity to engage in hands-on learning experiences that benefit the college and the local community. Together students apply their academic knowledge and practice their skills while solving real-world environmental problems. For example, students in the Environmental Science and Sustainability course design a "green" parking lot for RVCC, maintain rain gardens in the local community, and conduct biological assessments of local streams.
Student Voices:  "It's very beneficial as a student to see your work taken seriously. It gives you a reason to push yourself and learn more, an opportunity to develop valuable skills, and concrete experience to draw from after graduation."   – Deidre Supple, Class of 2011 & 2016
Scholarship Opportunities
Galileo Scholarship
The Galileo Scholarship is offered to RVCC students majoring in Science, Technology, Engineering, and Mathematics (STEM). In addition to financial support, Galileo Scholars also benefit from being a part of a close-knit community with career counseling, professional development workshops, and special events. For more information visit the RVCC Scholarship Page.

Alumni Stories
The success of our alumni speaks to the value and impact of the Center for Environmental Studies' programs. See the stories below and in our newsletters to learn more about how our alumni are progressing in their environmental careers.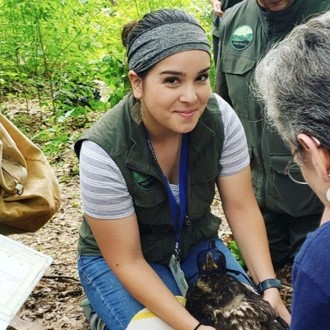 Alejandra Murillo
     RVCC: A.S. Environmental Science, 2016
     Rutgers: B.S. Public Health, 2018   &   M.P.H. Environmental Health, expected in 2022

Exciting life update … I will be the Program Coordinator at Rutgers University for a new joint initiative called the Health Outcome, Policy, and Economics (HOPE). The role entails organizing educational campaigns for the department, advising 20 graduate students & fellows, being a TA for several graduate courses, among other very exciting things!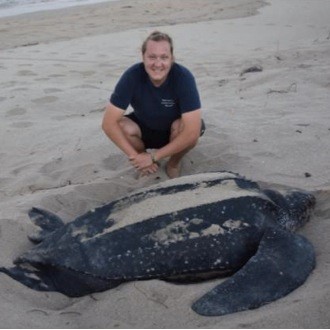 Cory Snyder
     RVCC: A.S. Environmental Science, 2015
     Cornell University: B.S Environmental and Sustainability Science, 2017

I currently split my working time between the United States and Costa Rica. In Costa Rica I work for the Leatherback Trust as a project manager on a sea turtle conservation project. While in the States, I work for a small land trust called Friends of Hopewell Valley Open Space along with the New Jersey Invasive Species Strike Team doing land stewardship and invasive species management.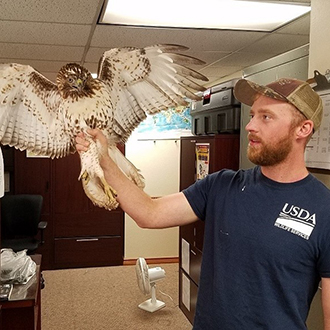 Adam Kohler
     RVCC: A.S. Environmental Science, 2015
I am currently a wildlife biologist with the US Department of Agriculture's Wildlife Services in Oklahoma. The agency's objective is to address human wildlife conflicts and the resulting damage. My primary role is reducing aircraft strikes with wildlife, but I also have worked on feral hog eradication, white-tailed deer population reduction, rabies reduction efforts, invasive species control, as well as other projects. Prior to my work with the USDA I worked for a US Fish & Wildlife Service contractor on endangered species conservation in the Marianas Islands. All of the opportunities I have received have stemmed from my time at the RVCC Center for Environmental Studies. The staff are incredibly talented and giving with their time and knowledge. The program left me with a great base in ecological understanding, as well as future friends/colleagues. Not only did I receive an excellent education, but the work experience I gained through the internships the program offered proved invaluable in establishing my career.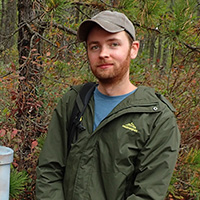 Jason Hafstad
     RVCC: A.S. Environmental Science, 2014
     Rutgers University, B.S., Ecology, Evolution and Natural Resources, 2016
     Stockton University, P.S.M. Environmental Studies, 2019
In May of 2019, I began working as the botanist for the Endangered and Threatened Species Unit at the Division of Land Resource Protection, NJ Department of Environmental Protection. My studies and internships at RVCC introduced me to rare plant and forest ecology research, which has become the foundation of my career. Today, I review wetland permit applications for impacts to New Jersey's 836 rare and endangered plant species.
Staying in Touch
To stay in touch with us or to share personal and professional news please feel free to reach out to Dr. Jay Kelly Jay.Kelly@raritanval.edu or Dr. Emilie Stander Emilie.Stander@raritanval.edu.