The Safe Community Coalition of Hunterdon & Somerset Counties is dedicated to providing a SAFE and healthy community by eliminating drug use, underage drinking and prescription drug abuse. The Coalition is focused on the following priorities:  prevention of prescription drug misuse across the lifespan, underage drinking, tobacco, marijuana, and other drug use.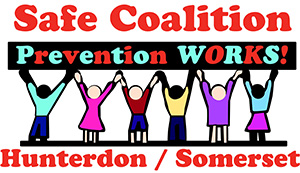 Since 2012, the Coalition has implemented the following:
Expansion of an active, outcome-oriented stakeholders groups in both Hunterdon and Somerset counties with strong representation from law enforcement, county officials, educators, civic and faith-based organizations, parents and students.  Each county's stakeholders group meets on a monthly basis with work groups addressing each of the prevention priorities
Funded the production of  two documentaries about the real-life consequences of substance abuse produced by RVCC Adjunct Professor of film, Harry Hillard - "In a Split Second" and "Pills To Heroin: The Domino Effect".  These films are available online, have been used by the drug courts and Intoxicated Drivers Resource Centers in both counties and have also been shown to high school and college students, parents, educators, public officials, and civic organizations via Town Hall meetings and other events.
Supported the activities of the RVCC BACCHUS club which is focuses on safe and responsible life choices, peer education, promoting healthy social norms and raising the awareness of students, faculty and staff about the harmful effects of substance abuse.
Promoted a variety of public policy changes affecting large segments of the population in both counties including restricting the use of alcohol at "The Hunt", a large fund-raising initiative in Somerset County.
Promoted the expansion of Rx drop boxes for the safe disposal of unwanted and expired medications.  This included coordination of a contest among Somerset County high school students resulting in the creation of two posters encouraging residents to dispose of their unwanted and expired medications and listing the location of 6 Rx drop boxes in the county.
Distributed posters to various public venues including Somerset Medical Center, pharmacies, and other key locations throughout the county.


History
In July 2009, in partnership with two vital substance abuse treatment and prevention agencies, Somerset Treatment Services in Somerset County and Hunterdon Prevention Resources in Hunterdon County, RVCC received a state-funded grant to address the harmful consequences of alcohol and drug use among those 18 to 25 years old.  The "Healthy Options for Prevention and Education (H.O.P.E) Project implemented a variety of environmental strategies aimed at changing social norms on campus, promoting the enactment of private property ordinances in local municipalities to reduce underage drinking, and educating employers about strategies for reducing substance abuse by their employees.

In 2012, during its final year of operations, the H.O.P.E. Project merged with the Safe Communities Coalition of Hunterdon County and became known as the Safe Communities Coalition of Hunterdon and Somerset Counties.  The Coalition was funded for 5 years by the N.J. Division of Mental Health and Addiction Services and is administered by Hunterdon Prevention Resources.


Resources
Prevention:

Treatment and Recovery

Narcotics Anonymous

Health Risks by Substance
Additional Resources:


Learn More
Ann Smolinsky  - Safe Communities Coalition
Email:  asmolins@raritanval.edu
Phone: 908-526-1200 x8607

Bruce Yellin  - Safe Communities Coalition
Email:  byellin@raritanval.edu
Phone: 908.526.1200 x8607